The Book
Protocol, Etiquette & Event Consultants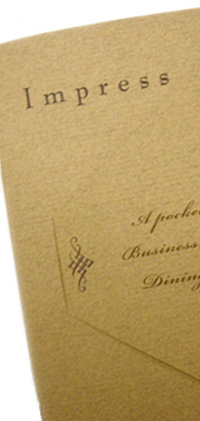 Impress: A Pocket Guide Business Protocol and Dining Etiquette
"Impress" is a charming guide that covers such topics as how to project a professional image, business office know-how, and business entertainment. In a handy pocket size and in a very accessible bulleted format, it is convenient for reference and use by business professionals and people from all walks of life.
Impress: A Pocket Guide Business Protocol and Dining Etiquette
Paperback pocket guide
4" x 6"
ISBN 0-9773171-0-2
$17.95
$1.95 Shipping and Handling
We also accept US money orders and certified checks. Make checks payable to The Develey International Group.
No personal checks accepted.